Digital Marketing for Hyundai Dealerships

Hyundai is an automotive brand that is increasingly gaining attention of discerning automotive buyers, and this is for good reason. Vehicles like the Elantra, Sonata, Accent and others have a solid reputation for excellence in the areas of value, fuel economy, style and more. However, simply selling a good product is unfortunately not enough to ensure exceptional sales numbers. Your local competition is going to great lengths to ensure that serious shoppers find positive, sales-oriented information about their dealership and their models. Their efforts could be pulling customers away from you, and you need to take robust measures to remain competitive.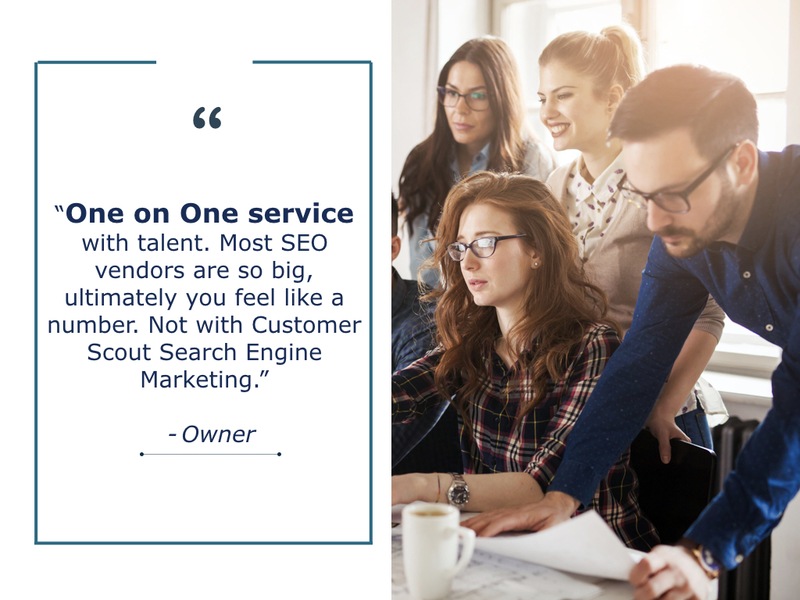 Today's automotive shoppers increasingly use the Internet for at least some of their research and shopping efforts. This means that if they cannot quickly and easily find quality information about your models and about your dealership through their efforts, you may be losing sales. Customer Scout specializes in providing automotive SEO services, and we have the robust range of services that can help you to directly target local consumers who are actively in the market to buy vehicles like yours.
Proven SEO Results for Hyundai Dealerships across the country
When you are looking for a company to provide SEO for Hyundai dealerships, you may be floored by the large number of online marketing firms that offer search engine optimization services. Many of these firms make grand promises with little to no basis, and many others try to appeal to all industries to attract more clients. At Customer Scout, we specialize specifically in automotive SEO. We understand exactly who your target audience is and what they are looking for. More than that, we offer SEO for Hyundai dealerships that actually attracts your target audience to your content.When you trust our team with your online marketing efforts, you can rest easy knowing that your marketing campaign is in good hands. Other firms make promises, but we deliver on those promises. As proof of this, we have been named a "Top Rated" SEO firm at the National Automobile Dealers Association (NADA) Convention and Expo in 2018. We are devoted to the goal of helping each of our clients achieve top rankings online, and we have the track record to support this.
Your dealership may have already tried to run a search engine optimization campaign, but you may not have enjoyed the high level of results that you were hoping for. The unfortunate reality is that online shoppers must find the information that they seek very quickly and at the top of the search engine results. If your current efforts are not generating exceptional search engine results, you need help from our local SEO team. These are a few of the many techniques that we will incorporate into a campaign that is specifically customized for your Hyundai dealership:SEO Content Writing that Showcase Hyundai models
You may believe that your website's content is already optimized to produce great search engine rankings, but you may be surprised to see what a difference our content writing services can make. We carefully select keywords based on your unique target audience, and we also keep tabs and changing analytics to update this content periodically as needed. The placement of your keywords in value-added text is essential. This text should be fresh and unique rather than stale content that mimics text on most other dealerships' websites.
Business Listings: Search engines today analyze your website's relevance and authority to determine rankings. Through our unique business listings service, we can give your website the clout and recognition that it needs so that your website ranks well in relevant search engine results.
Blog Marketing: Blogging is essential for great local SEO results. Through blog marketing, you can develop effective, value-added content that can drive customers to your dealership. Blog posts can also be written with SEO techniques in mind. The addition of keyword-rich content that is fresh and relevant can boost rankings dramatically when done effectively.
Exclusivity – We Partner with Just ONE Hyundai Dealer PER Market
Before you use our services for SEO for Hyundai dealerships, you may be interested to learn if the competition is already using our services or if they may use our services in the future. Nobody wants to pay for marketing services that their competition has access to. This would be self-defeating. We provide our customers with an exclusivity promise. Through this promise, you can feel confident that we will never provide our services to more than one dealership in a market.
Local SEO, geo targeting and social media services are also offered to further enhance the results that we can produce for you.
Now that you know more about the many efforts that we take to create and execute a successful search engine optimization campaign, you can see that we are the company that you want in your corner. To see more about how our strategies and other techniques can be effective for your
Hyundai
dealership, call
Customer Scout
to request a demo.