Custom Landing Pages for Auto dealer websites
At
Customer Scout
, we are focused on producing exceptional online marketing results for our auto dealership clients. Driving focused traffic to your website through our various proven methods is critical, but this is not the only step required to produce desired results. After all, your goal is to
convert visitors into leads
rather than to simply have many visitors. Visitors to a specific landing page will make a split-second decision about their intention to explore your website further based on the landing page's layout and content. The content must appeal to their unique reason for visiting your website. With this in mind, we develop multiple types of landing pages for specific purposes and to appeal to your visitors with unique needs and interests.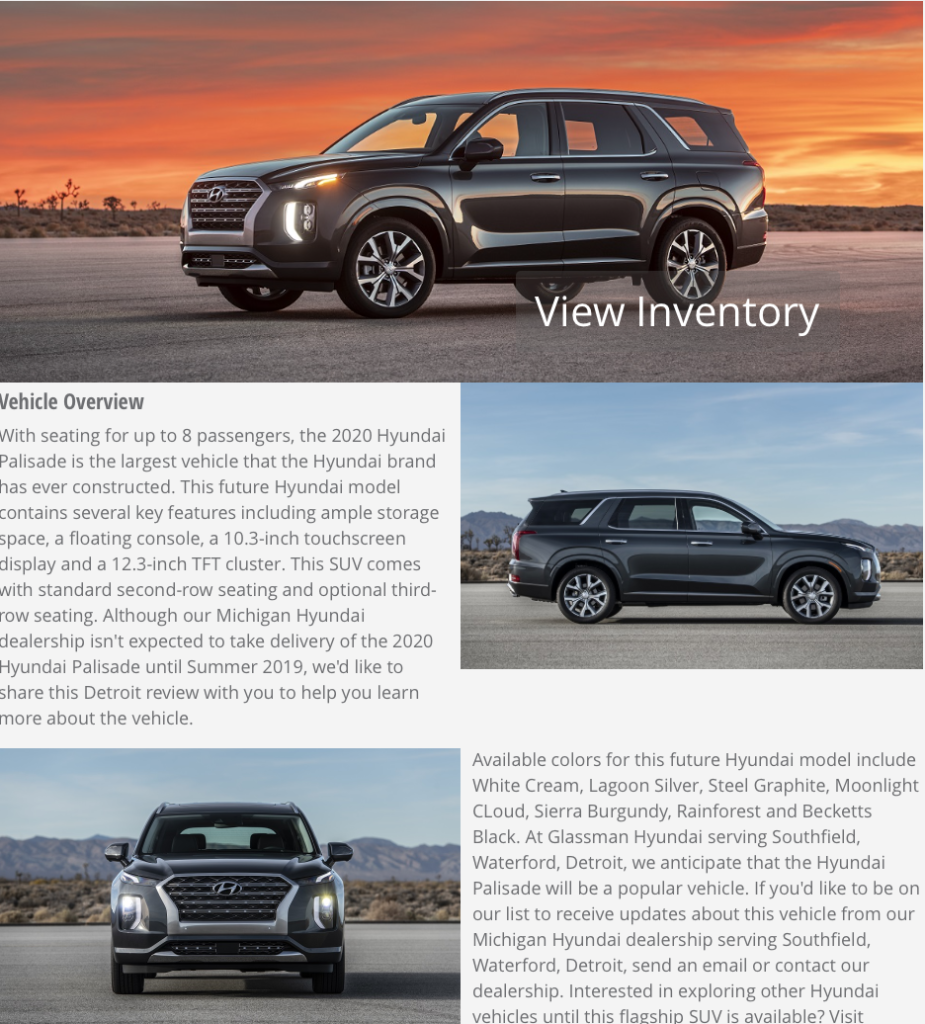 Dealer Brand Pages – New Model and Future Models
Many auto shoppers today want to learn more about the features and capabilities of a specific model that they are interested in. Some are curious about the next year's model as well. Our new model and future model pages are search engine optimized, and they provide your visitors with the specific information that they are searching for. They also encourage visitors to take the next step and contact you for a test drive.
Brand Model VS. Competition Model Pages
Your models directly compete with similar models in the automotive class and in the same price range. Our model vs model pages directly compare one of your specific models against one specific competing model. These pages
utilizes SEO strategies
as well, and they highlight the benefits of your model as selling points over competing models. Finally, they encourage visitors to take the next step of completing their comparison through a test drive at your dealership.
New Model Lease Specials Pages
We also create new model lease specials pages. These pages provide specific details about models that your customers may be interested in leasing soon, and they include a strong call to action to encourage customers to connect with your team for information about current specials. As is the case with our other landing pages, our new model lease specials pages are written using search engine optimization strategies.
Dealer Serving City Pages
Localized SEO strategies are a critical component to an auto dealership's marketing campaign. Many of our other pages outlining model features and specials are
geo-specific
. Our dealer serving city pages specifically highlight the services offered by your dealership with specific selling propositions. Targeted cities may include the city where the dealership is located as well as nearby cities that the dealership services.
Used Model Pages
The used model pages that we design may highlight the benefits of specific used vehicles. They also may focus on the used inventory that your dealership offers in general. These pages are geo-specific and optimized for search engine visibility.
Our team at
Customer Scout
takes a well-rounded, multi-faceted approach to helping your auto dealership succeed in a competitive market. Your online marketing efforts must be designed with search engines in mind while also providing true value for your customers. We understand the importance of creating unique, tailored landing pages that serve various purposes in a full campaign.
Learn more about Customer Scouts SEO services.