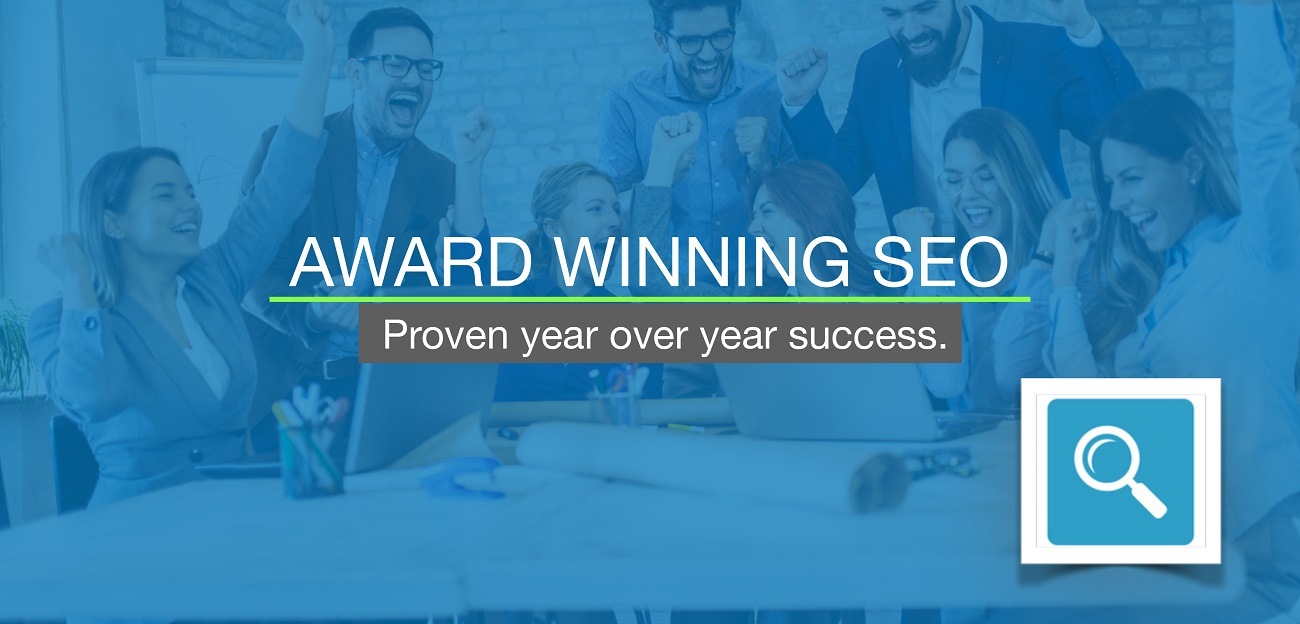 Customer Scout SEO RECEIVES "TOP RATED" DRIVINGSALES DEALER SATISFACTION AWARD
Receiving top grade in Dealer Satisfaction, Customer Scout SEO wins award in SEO Category
Denver, Colorado – February 1, 2018​ – Customer Scout SEO has received a "Top Rated" SEO Award in the eighth annual DrivingSales​ ​Dealer Satisfaction Awards​, presented at a special event in conjunction with the 2018 National Automobile Dealers Association (NADA) Convention & Expo. Customer Scout SEO received a top rated dealer satisfaction ranking in the SEO category, as determined by the thousands of auto dealers who are part of the​ ​DrivingSales.com community.
"It is an honor to receive this prestigious award from DrivingsSales.com, which is the largest automotive social network in the world. Without our Dealers, DrivingSales, and the efforts of our stellar employees this award would not have been possible. From all of us at Customer Scout Inc., we sincerely thank our Dealers and DrivingSales for this award." ~ Sean Szymanski, President Customer Scout, INC.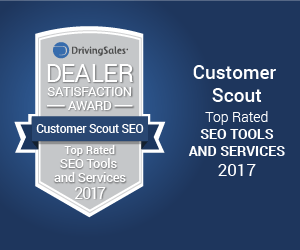 DrivingSales CEO and Founder Jared Hamilton. "In our eighth year of presenting these awards, we feel especially proud that DrivingSales Vendor Ratings continues to help dealers make smart and informed decisions through thousands of peer reviews that lead them to outstanding service providers such as Customer Scout SEO. We're thrilled Customer Scout SEO has been recognized as one of the best by the people to whom their services count the most: the dealer community." The DrivingSales Dealer Satisfaction Awards measure dealer satisfaction with vendor products and services, and are based on cumulative ratings tallied and verified over the calendar year (January – December) at DrivingSales.com​ ​Vendor Ratings​. DrivingSales Vendor Ratings is the industry's only neutral, comprehensive vendor rating forum featuring real-time peer reviews and honest competitor comparisons, and provides dealerships with important information from actual customers who have hands-on experience using vendor products / solutions in their stores. Each rating is verified as coming from an actual dealership employee. Full award results are available online at http://events.drivingsales.com/dealer-satisfaction-awards/. Award winners are showcased in the Q1 2018 issue of the DrivingSales Dealership Vendor Buyers Guide which, in addition to being distributed at the 2018 NADA Convention and Expo, is delivered to every new car dealership nationwide, as well as to the top 100 used car dealerships. For more information on the DrivingSales Dealership Vendor Buyers Guide, please visit:​ ​https://www.drivingsales.com/buyers-guide/​.
About Customer Scout, Inc.
Customer Scout provides complete, local, and reliable digital marketing, website creation and hosting and reputation management to franchise automotive dealerships throughout the United States. Our digital marketing strategy is multifaceted and designed to provide dealers with dominate search engine placement for desired geographies and keywords through the creation of rich onsite and offsite content. The Customer Scout engine was developed to actively monitor digital presence to identify changes in search engine algorithms that could effect search engine placement so that a response in content focus or structure could be made to maintain high search engine relevancy.
About DrivingSales
DrivingSales is a professional network serving the auto industry with dealer-driven news and information, online training, and performance data, all to enable dealers to make critical business decisions at their dealerships. DrivingSales' mission is to connect progressive dealership professionals to the people and information they need to maximize their success. Founded by a third-generation car dealer, and opened up to the industry in 2008, today DrivingSales has registered users in over 50% of new car dealerships in the US and is active in several other countries around the globe. To learn more about the DrivingSales community, training or performance analytics visit​ ​DrivingSales.com​,​ ​DrivingSales.com/HCM​ and DrivingSalesData .com
Customer Scout Media Relations:
Sean Szymanski
President/Founder
Customer Scout Inc.
c: 303-960-8520
DrivingSales Media Relations:
Brinley Nielsen, DrivingSales [email protected]