2021 Kia Seltos Review – Customer Scout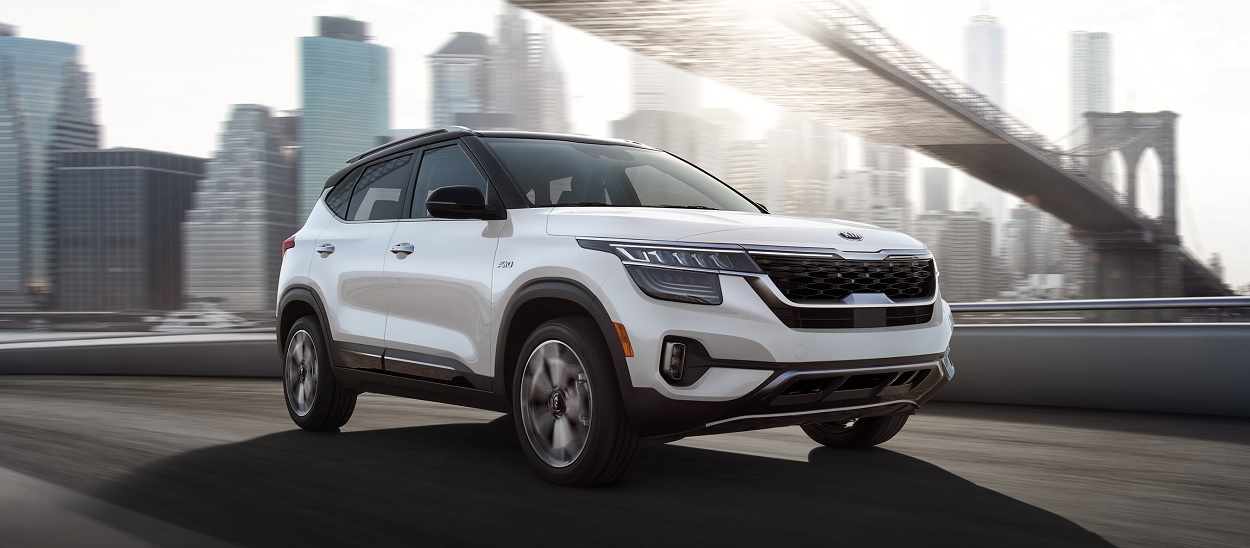 Vehicle Overview
The Seltos is ideal for millennial buyers, but Kia's recent redesign should make it a hit with even older customers as well. It's a subcompact crossover with a car-type flavor and plenty of easy to use technologies that make life inside the Seltos a pure joy. This year's Seltos gets less boxy and more serious about competing in its segment, with a huge touchscreen dash that should please the "kids" and a lot more spacious interior that will make grandparents a lot happier, too. Customer Scout is here to give you an in-depth 2021 Kia Seltos review that hits all the major points of the newest Seltos. It's a relatively new player in the subcompact market, but you can bet that it's going home with thousands more customers this year than it did last year. It's better in every single way.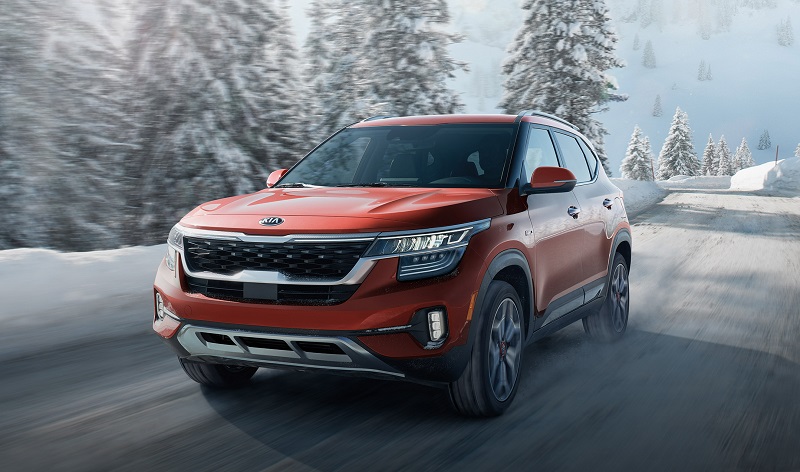 Exterior – 2021 Kia Seltos
It's less boxy and more angled than last year, pushing it past the Soul in terms of style. You'll find that the diamond-styled headlights go beautifully with the tiger-nose grille from Kia. The angled roofline nixes the "box" look and sports an additional spirit of style. You'll also appreciate the new exterior color options this year! The highest trims of Seltos even get a more chromed-out exterior for an almost sports car vibe. When you look at the 2021 Kia Seltos, you get a feeling that this is a vehicle that's finally reached its full potential, and it can help you reach your full potential as a driver, too. Customer Scout isn't shy about pointing out that this is one of the single best looking subcompacts of the year. Many a review will back up that claim.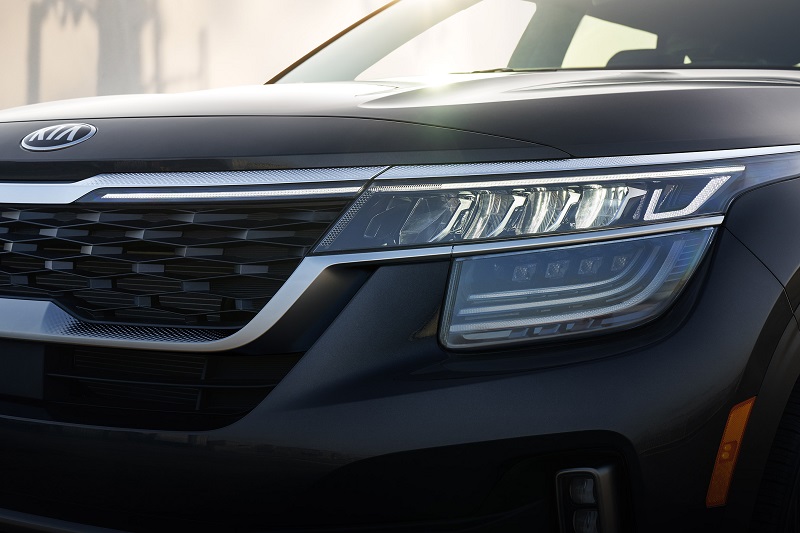 Interior – 2021 Kia Seltos
The interior of the new Seltos is focused more around technology and maximizing cargo and passenger space. It has plenty of head and legroom for a vehicle in its segment, and the materials on the seating get much more plush and cozy this year. You'll enjoy an 8-inch touchscreen infotainment center standard, but you can upgrade to the huge 10.25″ touchscreen display that really ramps up the fun in your Seltos. A 3.5-inch LCD cluster is also standard, making it look very futuristic at its price point. Cloth and leather-trimmed seating options are at your fingertips on the 2021 Kia Seltos. Many a review has pointed out that the new interior of the 2021 Seltos is much more futuristic and plain old sophisticated than it was in the beginning. It will impress even the pickiest among you.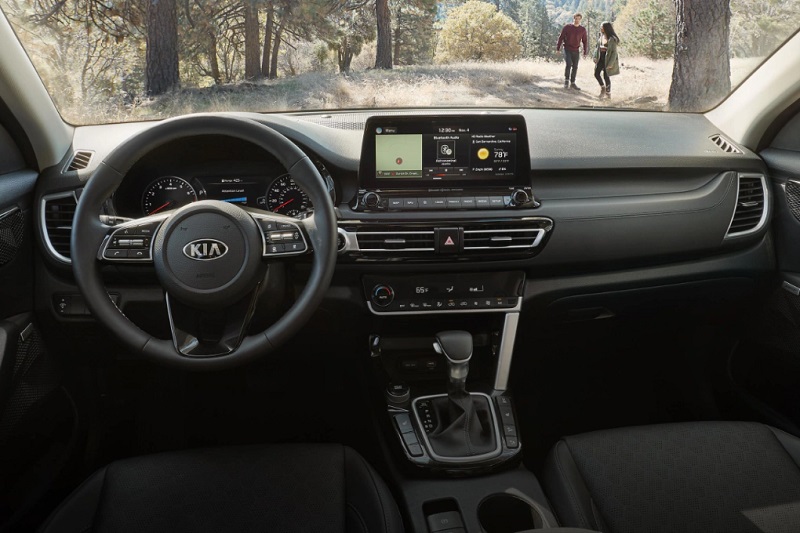 Mechanical – Kia Seltos specs near Denver
A CVT is your standard transmission configuration. Customer Scout loves the CVT's performance with any engine it's paired with, but a CVT is particularly well-suited to the Seltos's style. The Seltos is available in all-wheel drive this year on every trim, too, which makes a big difference to many customers.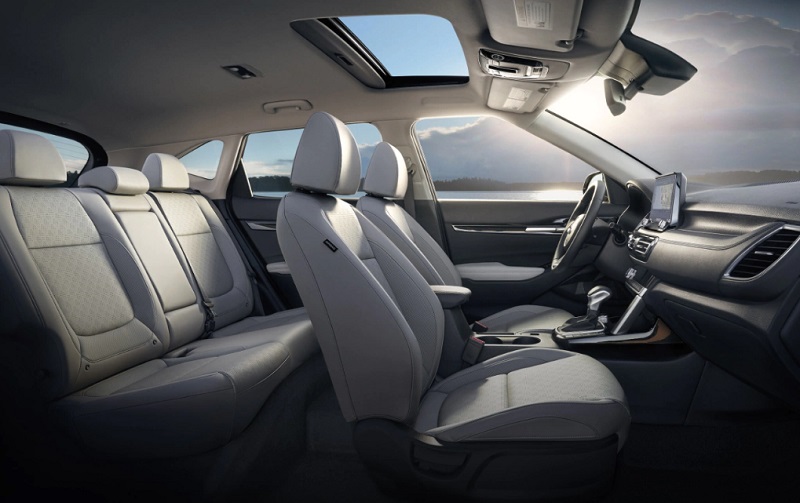 Powertrain – Kia Seltos specs near Denver CO
A handsome exterior is nice, but does the new Seltos live up to expectations in our 2021 Kia Seltos review? Yes! You're going to love the new powertrain. A 146 horsepower 2.0-liter four-cylinder engine is coupled with a CVT to create a wonderful standard powertrain for you. We're also pleased to report in our 2021 Kia Seltos review that you don't have to stop there. If you're one of those people who really takes 0-60 specs seriously, you can grab the GT-line variant! It'll kick up the fun to 201 horsepower and really bring out the most the Seltos has to offer powertrain wise.
Safety – 2021 Kia Seltos dealer
The seltos is at heart a family vehicle. Sure, it fits in well with the single, active lifestyle, too (who doesn't love a subcompact to sport their style), but it's a family vehicle deep down, and that means you need a safety configuration that keeps the entire family safe. We believe that the new Seltos is more durable than it has been in year's past, with a true safety cage that keeps you safe in any adverse events. What's more important, though, is that it has been loaded with driver-assist technology like lane keeping systems, multiple camera views that take advantage of the 10.25″ touchscreen system, and blind spot monitoring as well. Your Seltos has a second set of eyes that you can take advantage of, and Kia really did a great job putting the new safety suite together. We believe it will please everyone that runs across it!
Thank you for reading our 2021 Kia Seltos Review. This review was meant to cover all of the best features of the new Seltos. As a model, it has really come into its own this year, separating from its older siblings like the Soul and carving its own future path. Kia took extra care in carving out a niche for the Seltos, and the Seltos took those good things and raced forward to become an entirely new being this year. You're going to love the more expansive technology options, the more angled and sporty appearance, and most of all, you're going to love its safety features. You can learn more about the Seltos today by getting in touch with us. We're always ready to discuss all things Seltos! If you have any questions about powertrain, interior, exterior, or mechanical features, or just want to discuss a test drive, please contact us today. We're always here to help.
* Images are downloaded from www.kia.com. Kia is not responsible for any information provided here.