2021 Ford Mustang Mach-E Review – Customer Scout

Vehicle Overview
The 2021 Ford Mustang Mach-E is a sign of the times and a flash-forward to the future of muscle cars. Its all-electric powertrain is more than just a little electrifying. It changes the game entirely for electric cars. Customer Scout is here with a 2021 Ford Mustang Mach-E review that covers more than just bare bones specs. You'll learn about the inspiration and spirit of the new 2021 Ford Mustang Mach-E and learn how you can get your hands on one the minute it arrives at dealerships nationwide.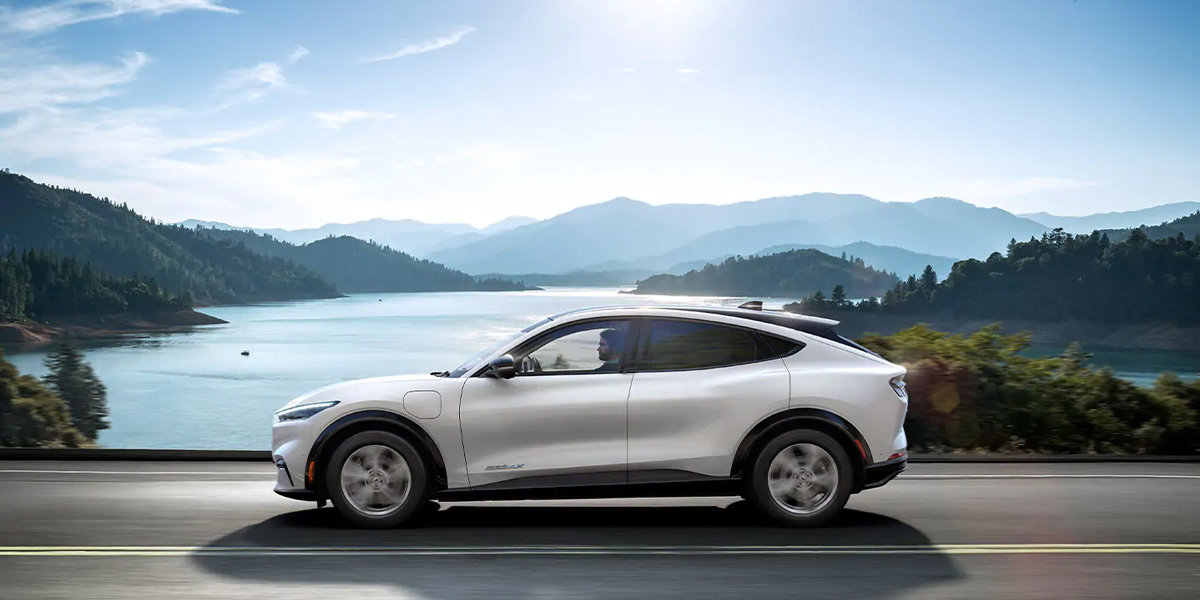 Exterior – 2021 Ford Mustang Mach-E
The hood is what everyone's noticing first about the Mach-E. We're going to kick off the 2021 Ford Mustang Mach-E review of the exterior with a mention of that long, iconic hood that's like entering another era for the Mustang itself. Yes, it still has that pony car look, but the longer hood really gives it a flair for the dramatic and a touch of sophistication that makes it "okay" for your average everyday sedan owner to feel comfortable in their own skin while driving one of these. It's also a 5-door model that changes design principles for other automakers. To call it a trendsetting model is an understatement. This one has all the flash and dazzle you'd expect of an all-electric Mustang.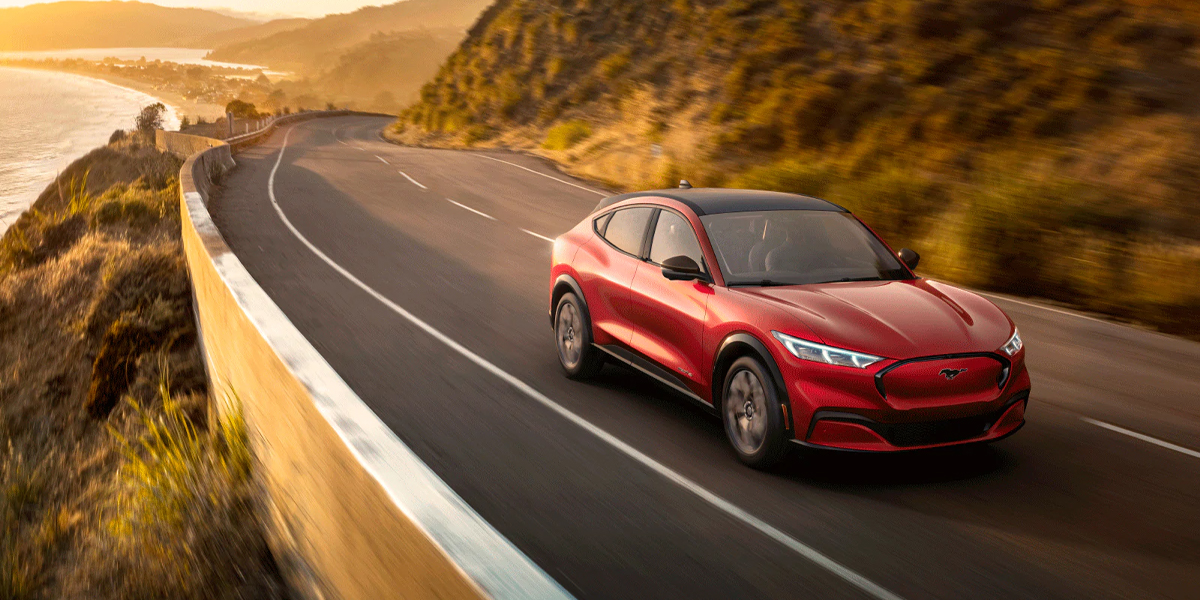 Interior – 2021 Ford Mustang Mach-E
Ford's design allowed for the normally space-eating battery to be installed under the floor of the vehicle, opening up a world of roomy spaciousness in the interior that is much appreciated by passengers and driver alike. There's also a generous 29 cubic feet of cargo space under the rear seats, another game-changing design decision by Ford. That's not even the most newsworthy thing you'll find in a 2021 Ford Mustang Mach-E review, though.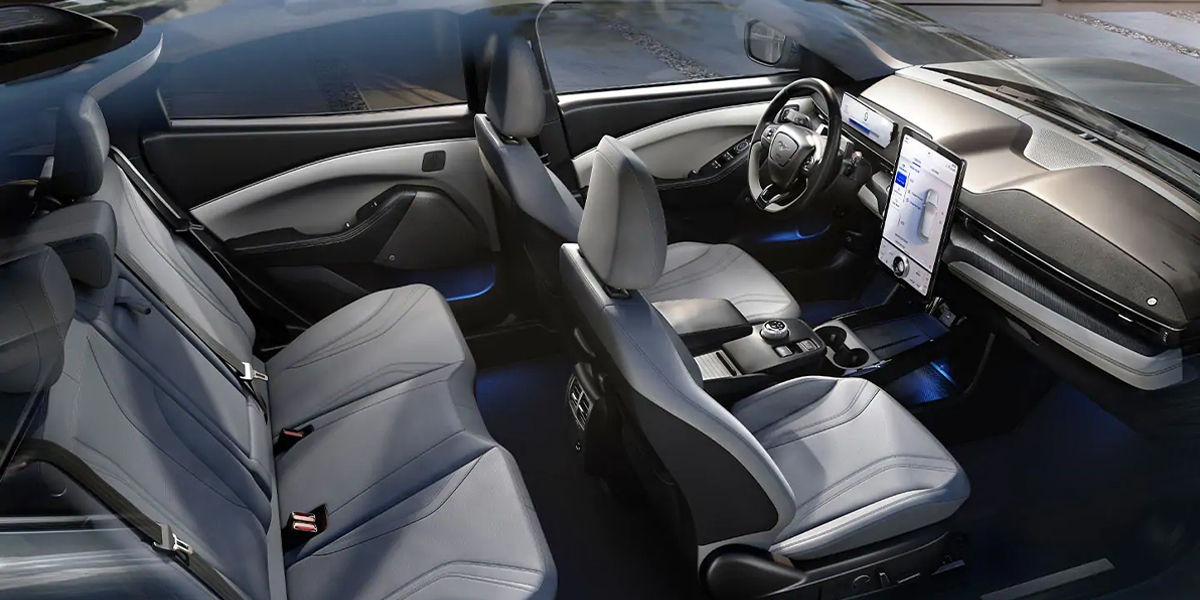 You've also got interior perks like:
A floating 15.5″ touchscreen infotainment system
Bang & Olufsen speakers spread out across the dash
Seating for up to 5 people
Fixed-glass roof option
A leather spread that's going to give you a luxury interior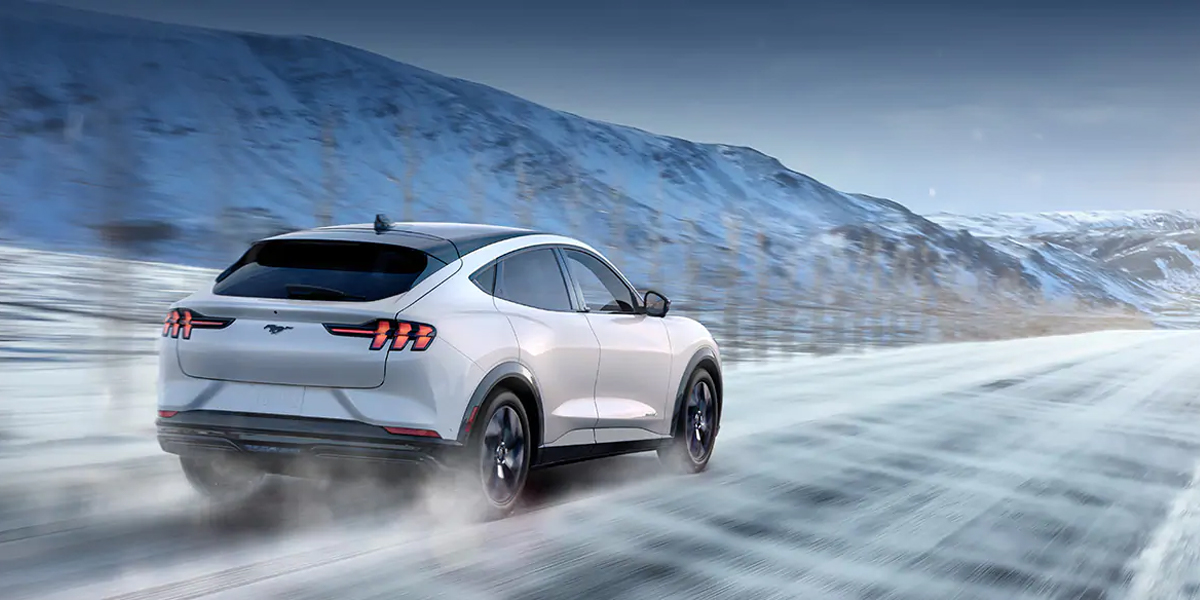 Mechanical – Ford Mustang Mach-E specs near Denver
With a 300 mile driving range, the Mach-E didn't mince words about its goal here. It's here to compete not just with other muscle cars, but with the most efficient electric vehicles in general, too. Customer Scout doesn't have all the information yet about every single aspect of the Mach-E's mechanical makeup just yet, but we do know as much or more about it than other review layouts right now. Here's what we've got for you so far:
75.7 kWh lithium-ion battery standard
98.8 kWh extended range battery (your 300 range battery)
Powertrain – Ford Mustang Mach-E specs near Denver CO
Your standard powertrain is going to be a powerful one, but the one that really caught our eye is the 0-60 in less than 4 second 459 horsepower powertrain. Your GT models will get that powertrain, and if you are the type of person who doesn't want to regret missing out on an amazing opportunity, you'll likely want to focus on grabbing the GT.
332 horsepower and 417 lb-ft of torque
459 hp and 612 lb-ft (GT models)
While we don't know everything there is to know about the new powertrains, we do know that both of them are easily going to place them as some of the most powerful muscle cars electric or non-electric for the year. They're what you'd expect from a Mustang!
Safety – 2021 Ford Mustang Mach-E dealer
When you're working with a lot of power and range, you need a safety suite that's going to power you forward into the next generation… safely. Ford's safety specs are under the table mostly right now, but they've shared a few eye-catching safety features of the Mach-E so far, and we're thrilled with what we've seen so far.
Blind spot monitoring will be the rule and not the exception
Your camera angles are going to be vivid and crystal clear thanks to the over 15″ touchscreen
Lane keeping assist systems are advanced and present more than a few "firsts" for this type of vehicle
A rock solid mechanical design and premium materials make for a safety cage you can depend on
The basics of the Mach-E are front and center right now, and the more we learn about it through every review, the more we fall in love with this next stage in the Mustang's legacy. It's already one of the most beloved muscle cars of all times, but when you throw in an electric powertrain and still keep it sharp and racing past the competition, you win over new non-Mustang fans. We suspect more than a few of the competition's fans will break away from their traditional buys and come over to the Mustang's side. If you're looking for a muscle car, look for the all-electric Mach-E this year. It's going to leave gas engine powered ponies in the dust and usher in a new wave of electric muscle cars in the future. We can't think of a better vehicle than the Mustang to create this new wave of electric muscle cars. Contact us today if you have any questions for Customer Scout about anything you've read in the review. You can also grab a Mach-E this year, coming soon!
* Images are downloaded from media.ford.com/. Ford is not responsible for any information provided here.