2021 Chevrolet Tahoe Review – Customer Scout

Vehicle Overview
For more than 25 years, the Chevy Tahoe has impressed drivers with its powerful capabilities and exciting features. At the same time, the Tahoe has been a practical vehicle that meets most needs for passenger seating, cargo space and more. The 2021 Chevrolet Tahoe debuts the line's fifth generation, and it elevates its appeal further. A 2021 Chevrolet Tahoe review reveals the thoughtful updates as well as the carryover features from last year's model.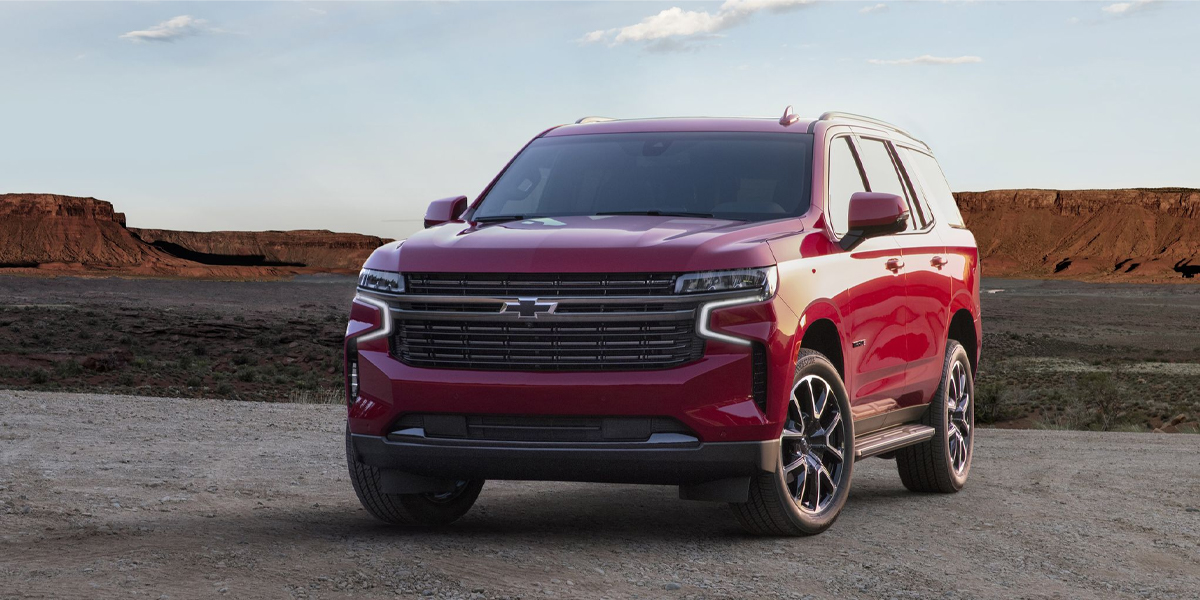 Exterior – 2021 Chevrolet Tahoe
Your 2021 Chevrolet Tahoe review takes you to the SUV's exterior. This full-size SUV's expanded dimensions across the length and the wheelbase combine with a lowered floor to change the look significantly. In addition, the grille and headlights have been elevated through design improvements. The grille has a stunning crease through the middle and shows off a stacked look with horizontal bars running from side to side. The upper bars are integrated with segmented, narrow LED headlights. Below these lights, a C-shaped light ribbon trends inward toward the grille. Chrome accents run along the lower front fascia, the side running boards, the side windows and more. The contours and personality lines across all sides of the Tahoe have also been redesigned. As you get to know more about the 2021 Chevrolet Tahoe, you can appreciate its rear LED lights, daytime running lights, foglamps, powered side mirrors with heating elements, roof rails, front-mounted roof antenna and other equipment.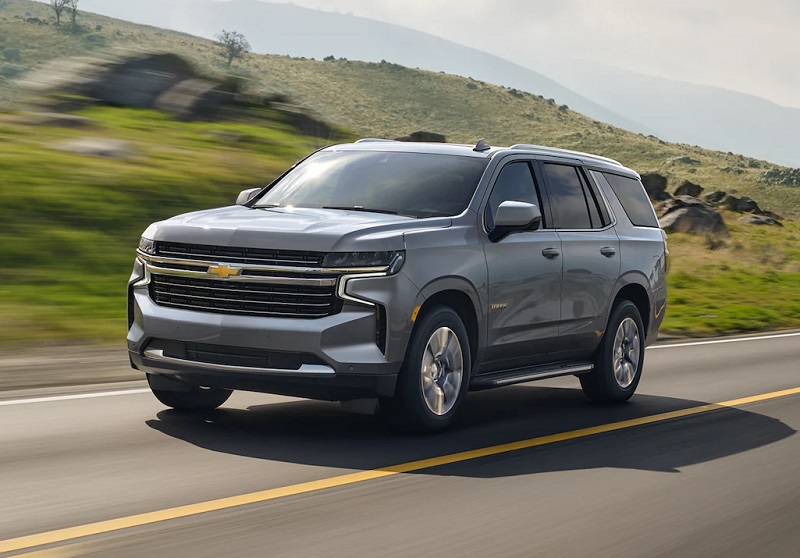 Interior – 2021 Chevrolet Tahoe
The Tahoe continues to be a smaller counterpart to its cousin, the Suburban. However, its dimensions have grown for the 2021 model year. Specifically, the Tahoe's wheelbase is 4.9 inches longer, and the body length is 6.7 inches longer than the 2020 Tahoe's dimensions. Inside the cabin, this equates to more legroom in the second and third rows and approximately 18 cubic feet of additional cargo space when these seats are folded flat. As you continue to review the 2021 Tahoe, you will notice that the interior design shows off updates as well. The dashboard is defined by horizontal elements that carry across the dashboard, and they bulge around the center stack and over the driver's digital instrumentation panel.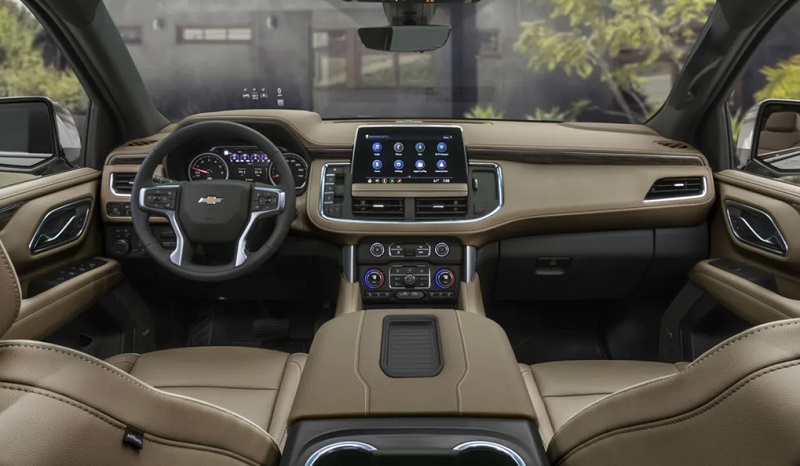 The display screen that controls the navigation equipment, integrated smart devices, Bluetooth tech and other elements floats above an angled dashboard element. Additional equipment that you may appreciate in the 2021 Tahoe includes a multi-zone climate control system with air vents across all rows, an auto-dimming rearview mirror, a power-sliding center console, a heads-up display, a keyless starter, keyless entry, a hands-free power liftgate, heated seats in the first and second rows, a sunroof, USB and power ports, functional steering wheel controls, hidden storage areas and much more. With six trims available, further review at your local dealership is essential.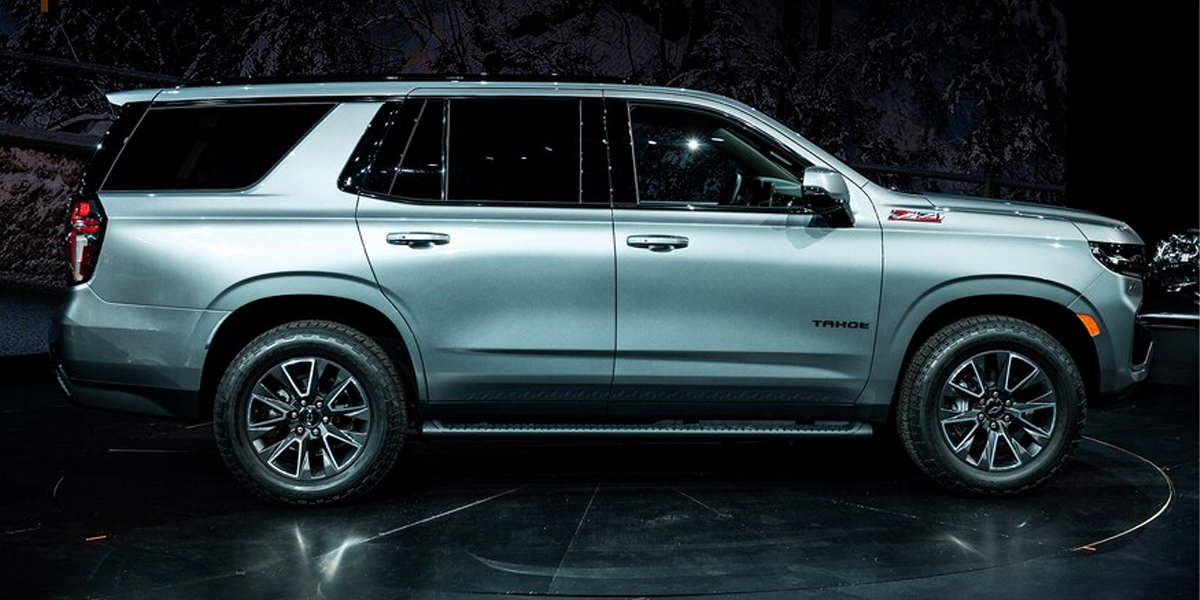 Mechanical – Chevrolet Tahoe specs near Denver
Significant improvements to the 2021 Tahoe's performance capabilities will undoubtedly impress you. Through your 2021 Chevrolet Tahoe review, you will see that it now comes with a rear independent suspension. This is combined with your choice of an adaptive air suspension or Magnetic Ride Control. With the adaptive air suspension system, the vehicle's height increases by four inches. Additional mechanical components in the 2021 Tahoe include anti-locking brakes, electric power steering, a traction management system and more.
Powertrain – Chevrolet Tahoe specs near Denver CO
Three powertrains are available for the 2021 Chevrolet Tahoe. Most trims come with a V8, 3.5-liter engine that produces 355 horsepower. The High Country trim is loaded with a V8, 6.2-liter engine that generates 420 horsepower. These are similar to last year's gas powertrains, but the Dynamic Fuel Management feature and auto start-stop equipment in this year's model replace the active fuel management system in the 2020 model. There is also a new diesel powertrain available for the 2021 model year. This is an I6 turbo-diesel, 3.0-liter Duramax engine that generates 277 horsepower. A test drive is the perfect way to review the capabilities of these three powertrains in detail.
Safety – 2021 Chevrolet Tahoe dealer
You will continue to be impressed as you finalize your 2021 Chevrolet Tahoe review. Today's Chevy models are stunningly well-appointed with advanced safety technologies that inspire confidence and that improve your usage of your new SUV. The 2021 Chevrolet Tahoe shows off new equipment like a 360-degree camera, a lane departure warning, a blind spot monitor, a blind zone alert, rear pedestrian alert, rear parking assistance, auto headlight control, auto emergency braking, forward collision mitigation and an improved trailer monitor feature. Your review of the 2021 Tahoe will indicate that numerous safety features are an extension from the 2020 model year. For example, the Tahoe continues to have airbags across all three rows, child safety seat anchors, tire pressure monitoring, auto-locking with speed detection, an anti-theft system, rear child safety door locks and more.
At Customer Scout, we help dealerships like yours to get the word out about their latest models. As a leading online marketing firm specializing in auto dealership SEO, Customer Scout knows how to drive targeted traffic to your dealership's website. Whether you want to promote your dealership or specific makes and models through online content creation or other efforts, Customer Scout can help you to generate incredible results. Contact us today to inquire about our award-winning services.
* Images are downloaded from media.chevrolet.com. Chevrolet is not responsible for any information provided here.