2020 Hyundai Sonata Hybrid Review – Customer Scout

Vehicle Overview
The Hyundai Sonata continues to be a popular option for car buyers who desire exceptional value in a midsize sedan. For 2020, the gas-powered Sonata shows off exciting design improvements and introduces new features from bumper to bumper. The 2020 Hyundai Sonata Hybrid benefits from many of these updates as well. As you continue your 2020 Hyundai Sonata Hybrid review, you will quickly discover why the new Sonata Hybrid is attracting significant attention from car buyers.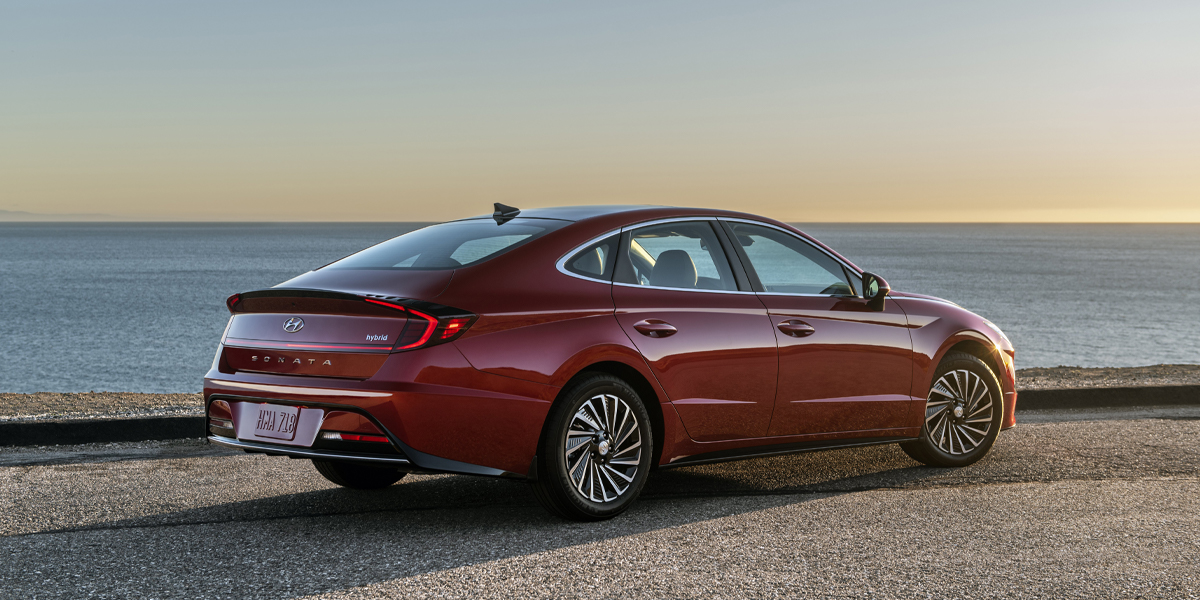 Exterior – 2020 Hyundai Sonata Hybrid
During your 2020 Hyundai Sonata Hybrid review, you may find it difficult to pull your eyes off of this car's updated exterior design. The most noticeable update to the exterior design is the LED headlights. Four bulbs sit in a row, and their port shows off a sharp angle that flares toward the back of the vehicle. At the same time, an LED ribbon wraps around the lower end of the port, and this ribbon takes a sharp, dramatic turn upward. The light extends independently along the hood's personality line. When the light is not illuminated, this extension piece has a metallic look that is equally stunning. The hood, sides and roof have also been reshaped, and the overall effect of these improvements is breathtaking. Other exterior equipment may include an available solar panel on the roof, powered side mirrors with a foldaway function, welcome lighting, solar control glass, a shark-fin antenna, daytime running lights, a remote trunk release, a proximity key and other gear.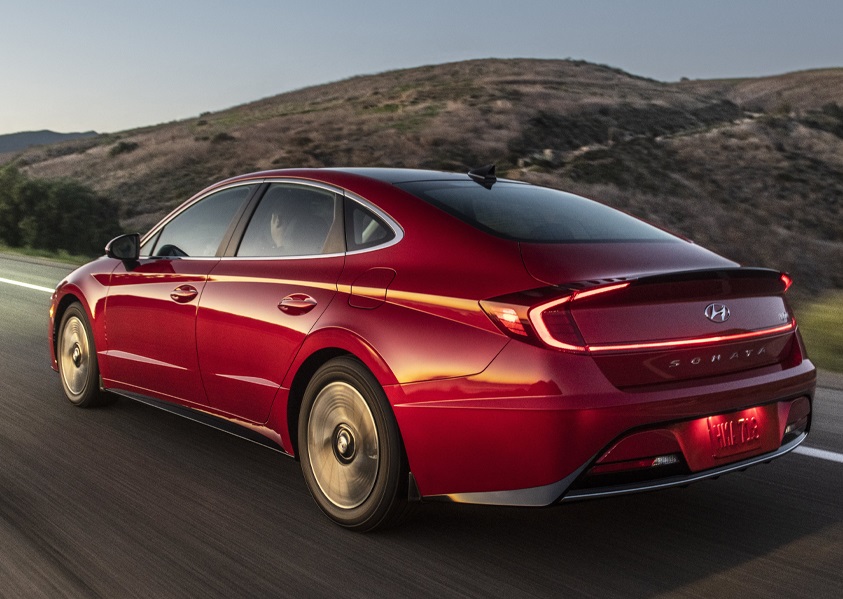 Interior – 2020 Hyundai Sonata Hybrid
With an initial review of the car's interior, you will happily discover that it boasts beautiful design changes as well as the addition of a few thoughtful features. The style has been refreshed throughout the cabin to create a more modern feel. The interior is notably spacious and uncluttered, but it is also loaded with all of the features that today's drivers crave. Based on the specific trim selected, the Hyundai Sonata Hybrid may come with leather material in several appealing color options, a heated steering wheel with heated seats in the front row, a navigation system, a panoramic sunroof with power functions if the solar panel option is not selected, wireless device charging, Blue Link connected service, Bluetooth technology, Apple CarPlay, a sound system, memory settings, side window sunshades, front and rear USB ports, an auto climate management system, Android Auto, mounted steering wheel functions, a keyless engine starter, an auto-dimming rear mirror and other preferred items.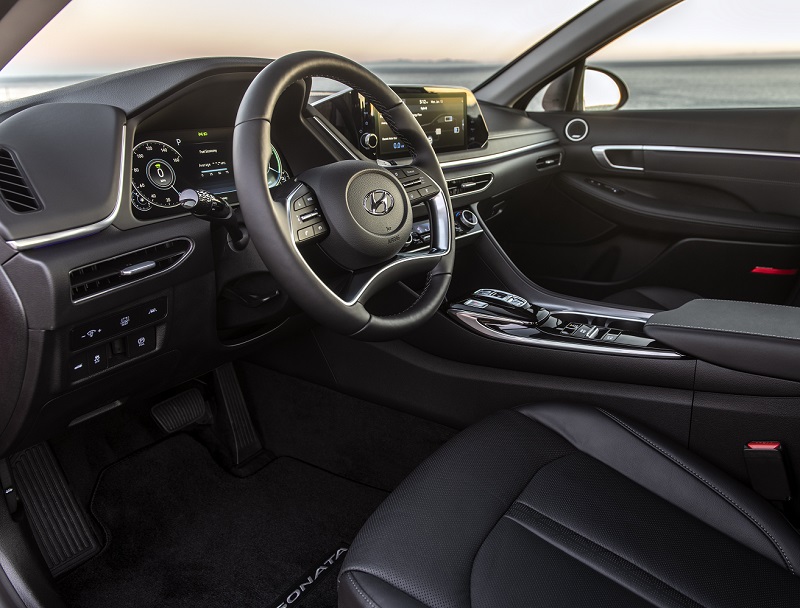 Mechanical – Hyundai Sonata Hybrid specs near Denver
Your 2020 Hyundai Sonata Hybrid review continues with a closer look at the car's mechanical equipment and overall capabilities on the road. This is a front-wheel drive vehicle that also comes with front coil springs, drive mode select, unibody construction, a front MacPherson strut, motor-driven power steering, drive mode select, a rear independent multi-link suspension system, 4-wheel disc brakes and other equipment. Altogether, your review of the Sonata Hybrid for 2020 will reveal that this car has all of the equipment that you need to enjoy a steady, smooth ride through town.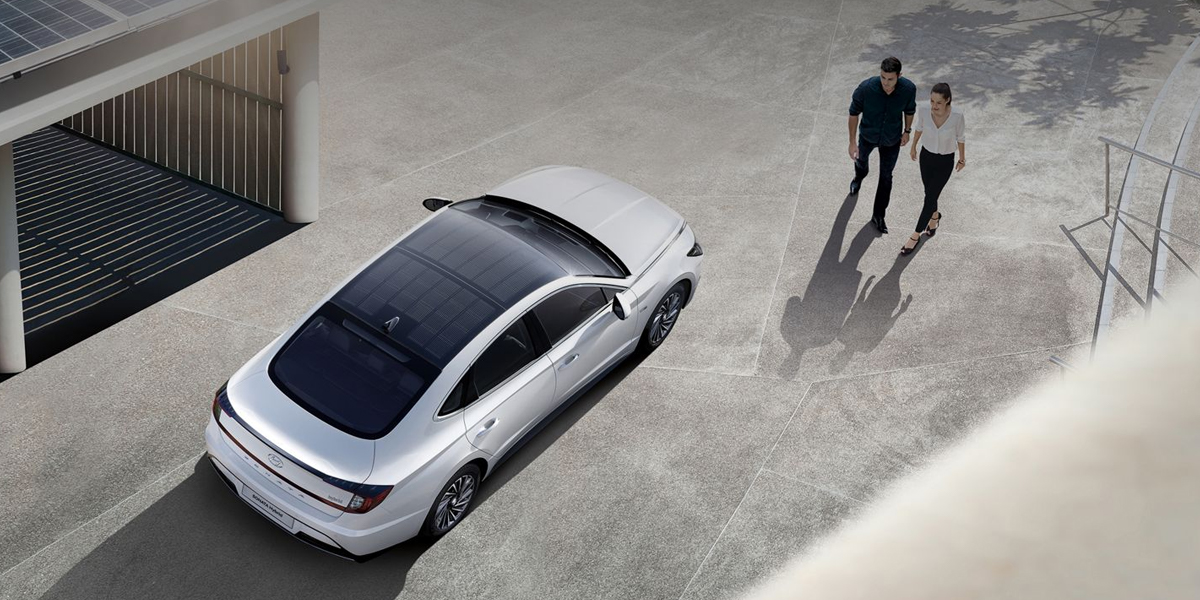 Powertrain – Hyundai Sonata Hybrid specs near Denver CO
If you choose to buy the 2020 Hyundai Sonata Hybrid with a solar panel on the roof, the car's battery will be partially recharged through solar energy. Compared to the 2019 model, the 2020 Sonata Hybrid is slightly less powerful than its predecessor. This difference is so minor that it is not noticeable, and the redesign enables superior efficiency. One of the reasons for the improved efficiency is the addition of Active Control technology in the 2020 model. The car's battery is connected to an inline-4, GDI 2.0-liter engine that generates a combined 193 horsepower. The hybrid powertrain is accompanied by a 6-speed auto SHIFTRONIC transmission.
Safety – 2020 Hyundai Sonata Hybrid dealer
The 2020 Hyundai Sonata Hybrid shows off impressive security and safety features as well. One of the new features that may be particularly exciting is park assist. Through this feature, you can instruct the car to slowly move backward or forward, and the car can make small steering movements as needed. Another new safety feature for the 2020 Hyundai Sonata Hybrid is a digital key, which provides smartphone access to the vehicle's locks. This feature is only available on android devices currently, and it utilizes Bluetooth technology to unlock and lock the doors. A time feature is available, which enables you to grant access to the vehicle to other parties as desired for a specific period of time. Some of the Sonata Hybrid's other equipment includes auto emergency braking, a blind spot monitor, lane change alert, rear cross-path detection, auto high beam assist, smart cruise control, pedestrian detection, airbags and other modern essentials.
At Customer Scout, we specialize in helping auto dealerships like yours attract customers online. Whether you want us to create a review like this for your dealership or you prefer a well-rounded SEO campaign created specifically for you, Customer Scout is available to help. Contact our online marketing professionals at Customer Scout today to learn more.
* Images are downloaded from www.hyundainews.com/. Hyundai is not responsible for any information provided here.