Automotive SEO Search Engine Optimization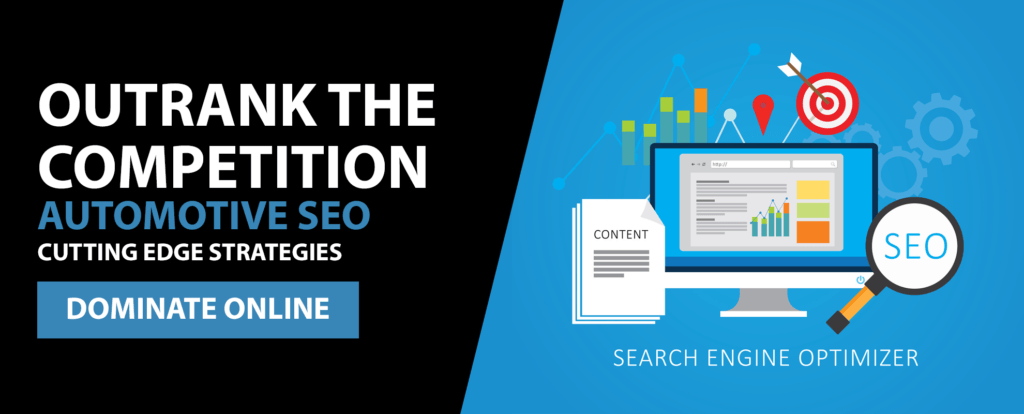 Car dealers today all share one common goal, and that is to boost provides while keeping expenses to a minimum. You may have heard the adage, "You have to spend money to make money," and this holds true in marketing and advertising for your car dealership. However, there are some steps that you can take that can help you to generate the maximum return on a minimal investment. One of the top marketing options available is to use automotive SEO. At Customer Scout, we offer award winning SEO services for KIA, Hyundai, Ford, Chevrolet, Toyota, Chrysler Dodge Jeep RAM, Subaru dealers, and we are excited to begin helping you with your marketing efforts.
SEO, or search engine optimization, can be confusing and complicated. You may even already be using auto dealer search engine optimization strategies and may be frustrated by limited results. At Customer Scout, we have award winning SEO services for KIA Hyundai Ford Chevrolet Toyota Dodge Jeep dealers, and this means that we know what it takes to help you generate the results you desire from your SEO marketing campaign. Now is the perfect time to take the first step and to meet with our team for an initial consultation. You can learn more about what we do and what sets us apart from other online marketing firms, and you can see what a difference the right automotive SEO campaign can make for your dealership's bottom line.
Dominate the Market with Customer Scout SEO Services
You may not have an SEO campaign currently, or your efforts with auto dealer search engine optimization may be sluggish. When you make the decision to contact us to jump start your campaign, you will benefit from our skilled and experienced search engine optimization team reviewing your current efforts and developing a plan to enhance them with spectacular results. Search engine optimization is about more than just boosting rankings. The content in your blogs, press releases and other content can educate, inform and even sell your customers on your products, and our team knows exactly how to craft exceptional marketing pieces that will get you the rankings and the results you desire.
Proven SEO Success for KIA Hyundai Ford Chevrolet Toyota Dodge Jeep Auto dealers
You may think that the best automotive SEO campaign is focused on the selection of the right keywords and phrases, and there is truth to this. Our process includes careful analysis of keywords so that we optimize our results, but there is more to a great search engine optimization campaign than this. Placement of the words, such as in banner ads, external articles and more, is also critical. The goal is to increase visibility and boost rankings, and this is exactly what we aim to do. More than that, because we offer award winning SEO services for KIA Hyundai Ford Chevrolet Toyota Dodge Jeep dealers, you can rest assured that we will produce the results you are dreaming about.
Search Engine Optimization for Denver, Phoenix, Chicago, Miami, New York City dealers
The combination of keyword selection and thoughtful content will help you to get the results you desire, and you can rest assured that Customer Scout will be by your side to create the content that will produce desired results. Whether someone is searching online for the sedan with the best safety rating, the coupe with the latest interior features or something else, you want your website and related content to be ranked highly for the results. Our team of trusted and dependable marketing experts understand the strategies and techniques necessary to get you the results you need from your marketing campaign.
If you are like many other automotive dealers, you may be less than thrilled with your marketing results. You may be looking for a way to cut costs while increasing results, and this is where we can help. Put our targeted keyword and search engine optimization services to work for you. Call our office today to inquire about our services and to request a consultation with us.